Tampa Bankruptcy Resources
| Bankruptcy Terminology | Bankruptcy Chronology | Bankruptcy Misconceptions |
To learn more about bankruptcy, click the links above. Smart choices today can help you realize the future you deserve. Trust the Tampa bankruptcy experts at Clark & Washington to help relieve the financial burdens that are overwhelming your life. It is the goal we strive for each and every day.
Filing for bankruptcy in Tampa is a complicated process, accompanied by technical aspects and terms that can easily be misunderstood or misinterpreted. This can lead to confusion about what to expect when filing for bankruptcy in Tampa. To help you gain a greater understanding of this process, we have assembled this resource page to provide you with the most relevant articles and research.
This information will provide you with a basic knowledge of the bankruptcy process, and will help you feel more comfortable when you do meet with our Tampa bankruptcy attorneys. A comprehensive understanding will help you in the long run of your filing.
We have organized the information provided on Tampa bankruptcy procedure into three main categories.
Under Bankruptcy Terminology, you will find commonly used terms that you will hear in our office and throughout the Tampa bankruptcy process.
Bankruptcy Chronology provides a short timeline of the series of events and procedures you can expect to encounter when you file for bankruptcy. Your Tampa bankruptcy lawyer at Clark & Washington will also keep you informed on the progress of your case during each stage of the proceedings.
The Bankruptcy Misconceptions section includes common, but inaccurate, beliefs and complaints about bankruptcy that we have heard over the years. This information will help you sort out Tampa bankruptcy fact and fiction.
We hope that these resources will help you to feel more informed and confident as you consider bankruptcy. For more information, call us at 813-345-5954 to schedule a free consultation with a Tampa bankruptcy lawyer.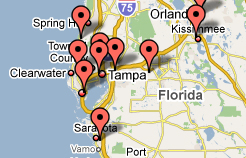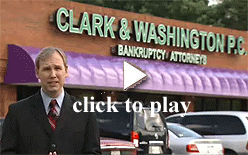 Contact Information Form