Tampa Bankruptcy Services
| Chapter 13 | Chapter 7|
At Clark & Washington, personal Tampa bankruptcy is our only practice. For more than 25 years, we have specialized in Chapter 7 and Chapter 13 bankruptcy, finding solutions for clients who are in need of financial assistance.
Filing Chapter 7 provides for the sale of a debtor's nonexempt property and the distribution of the proceeds to creditors. Meanwhile, Chapter 13 allows an individual with regular income to keep property and repay debts over time. This typically spans three to five years.
From your initial consultation to your final court hearing, Clark & Washington will provide legal services tailored to your unique financial situation and will thoroughly explain every step of the process along the way. The experienced Tampa bankruptcy lawyers at Clark & Washington, P.C. will make a trying time as comfortable as possible for you and your family.
We complete all of your paperwork, request your tax transcripts, and attend all of your court hearings, reducing stress and worry for you. Everything we do has your best interest in mind, a motive that is reflected in our services.
Our services begin with a free consultation for every client that walks through our doors. This is where you meet an attorney to discuss your financial situation. You and your Tampa bankruptcy attorney will determine the option that is best for you, whether it is Chapter 7 or Chapter 13, or no action at all.
If you choose to go through with a bankruptcy filing, we also provide assistance in these aspects of the bankruptcy process:
Petition. Every bankruptcy begins with a petition, which is a document that includes a characterization of your debts. Based on your specific information, your attorney will file this under Chapter 7 or Chapter 13.
Automatic Stay. Mandated by the federal court, an automatic stay will be imposed when you file. This prevents your creditors from taking additional action to collect debts from you.
Meeting of Creditors. Typically four to six weeks after you file, the Tampa Bankruptcy Trustee assigned to your case will chair a meeting of creditors. The trustee will ask questions of your financial standing and about the terms of your bankruptcy. The meeting is usually brief.
Following your meeting of creditors and if the terms have been satisfied, you will receive a notice. If you have filed under Chapter 13, in about six weeks you will receive a Notice of Confirmation of the payment plan that you and your will attorney will have discussed, and you will begin making payments. If you have filed under Chapter 7, in about six weeks you will receive a Notice of Discharge, clearing you of payment.
The entire Tampa bankruptcy process, from consultation to satisfying the terms, can take anywhere from three months up to several years. Certain factors may shorten or lengthen the process. However, at Clark & Washington, we do our best to make sure your case progresses as swiftly and worry-free as possible.
This information should not be used in place of an actual attorney consultation. Contact Clark & Washington today at 813-345-5954 for your free, no obligation consultation with a Tampa bankruptcy attorney.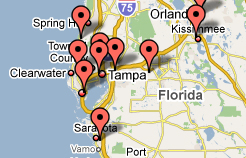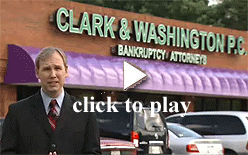 Contact Information Form